A Seattle woman reportedly threatened to burn down a smoke shop and launched racial epithets at an employee Tuesday after she was asked to wear a mask.
Seattle Police (SPD) said that they responded to a 911 call from the store, located in the northeast area of the city. When the police arrived, the suspect had already fled the scene in what authorities have described as a white Toyota Camry, the report said.
An unidentified employee of the smoke shop told Seattle Police that the woman had entered the business without a mask. When the employee asked her to put one on, police said the woman became belligerent, yelling and swearing while also demanding to be served.
When she attempted to purchase a pipe, she was reportedly asked for a form of identification proving she was of age, as they would be unable to sell her anything if she was a minor. The woman, who police said also had a pair of scissors in her hands and was flailing her arms around in a threatening manner, then began to get angry again and launched into a racist tirade directed towards the employee.
The suspect then threatened to "come back to the business with friends to rob the place and burn it to the ground," according to police. However, once the woman left the smoke shop she did not return, and employees proceeded to call 911.
Police said that they spotted the woman driving her Camry blocks from the shop, and when they attempted to stop her she initially pretended to pull over. However, she then quickly sped away from the officers. In an effort to keep the public safe, they decided not to initiate a chase, and the suspect is still at large.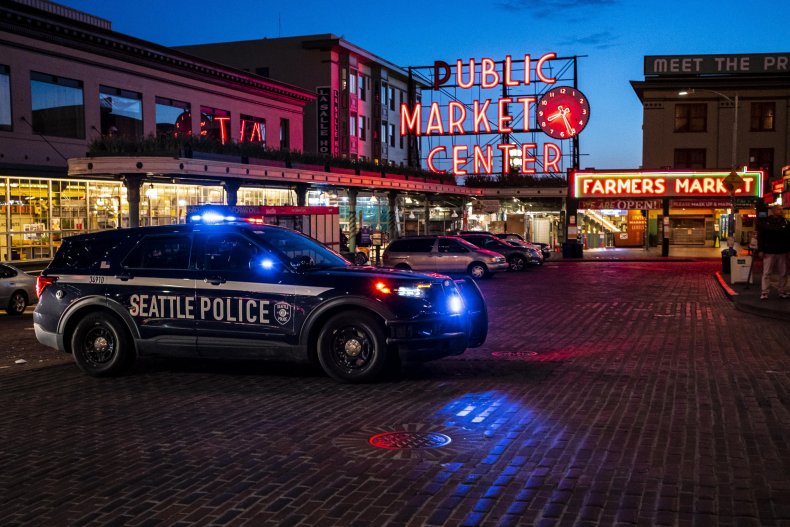 The incident is currently under investigation by a detective from the SPD's Bias Crimes Unit, who also spoke to the smoke shop employee involved, according to the statement.
Washington State has had an indoor mask mandate since September 3 for everyone aged 5 and older, regardless of their COVID vaccination status. Masks are also required for large outdoor gatherings of 500 people or more.
Last month, an Alaska Airlines flight originating in Seattle was forced to divert after a passenger threatened staff and refused to follow instructions when asked to wear a mask. Others traveling in the same group with the man had previously been removed before takeoff after violating the same mask policy.